"Their engagement went from 0 to 100 and I was able to actually get some real teaching done."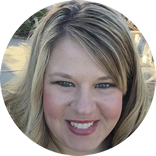 Guest Blogger: Beth Pittman
1st Grade Teacher, Early Ed Influencer, Blogger
Follow me: https://www.instagram.com/flexibleinfirst/





"Since this past March, we've been distance learning in our California school district. Just like everyone else, we were all scrambling to find things that worked with our students. At first, I was standing in front of my camera talking to my students over a computer. I learned quickly that I was not going to be able to hold my students' attention. They needed some excitement, some spice, and something visually to get them engaged. I had recently implemented Letters alive in class and I knew my students loved it, so I gave it a shot virtually and WOW it was just what we all needed! Their engagement went from 0 to 100 and I was able to actually get some real teaching done.
With Letters alive, we've been able to review and master three key ELA skills: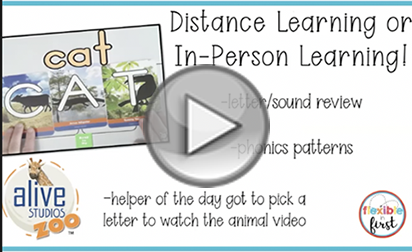 1. Word Building with Phonics Patterns: Yes, even 1st graders need practice with letters and sounds; especially as letters are put together and the sounds change. The Word Builder in Letters alive is perfect for this! When I use the letter and word family cards, we are able to hear the individual sounds and the word as a whole. My students love directing me to use the different cards as we work our way through words. This has been a great review and practice for vowel teams and has given me their undivided attention as I teach them these concepts.


2. Sentence Building and Proper Punctuation: My students love putting words together and building sentences. But their biggest problem has always been capitalization and punctuation. When we build sentences in Letters alive using the sight word cards, not only do we get to see what all the 26 zoo animals can do in 3D, we also get to see the capitalization and punctuation get added on the fly! This has helped my kids so much and gives me a fun way to point it out and teach them the concept. When I build "The horse can run," we see the "T" get capitalized, a period added at the end, AND, we see Henry Horse actually running! The sights, sounds, and actions have bridged the attention gap I was having with distance learning, and my students are actually learning and retaining the information.


3. Writing: One of the biggest problems with writing is finding things to write about. Letters alive has 26 animals in the Alive Studios Zoo. Each animal has a name, a rhyming story, a set of actions, a habitat, and other animal facts. This layer of animal science has ignited my students' imaginations and they always have fun things to write about.


In addition to these ELA skills, I discovered a cool way to
improve my students' behavior while distance learning; I assign a "helper of the day." My helper is able to verbally assist throughout each lesson. At the end of the lesson, I allow them to select one of the 26 animals for us to watch their habitat video so we can go on a virtual field trip. My kids LOVE this! They feel a sense of pride and accomplishment by playing an active role. Now all my students are at their best in hopes of being the helper for tomorrow!
I also have to let you know about the Zoo Crew Alphabet Show. Alive Studios took their "lockdown time" as a company and filmed 26 animal/letter lessons and shared them for FREE on YouTube. There's over 6 hours of digital learning that you can share with your students and your parents. This also helps that disconnect created by remote learning for our little ones. I know my parents are loving it as we continue to figure out what is next for schools."



---
If you're interested in getting Letters alive® for your classroom and need help with funding, we are pleased to provide four great options here.
~ Cynthia Kaye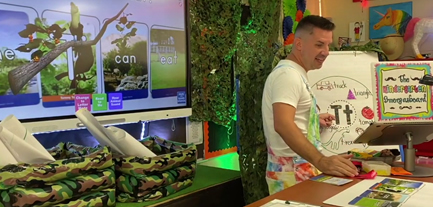 "Letters alive brings animals to life in 3D so we can use those to review and practice letters, sounds, concepts of print, science, and more! And yes, we ARE using it virtually!"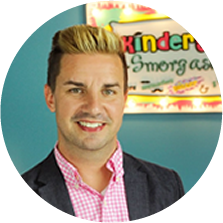 Guest Blogger: Mr. Greg Smedley-Warren
Kindergarten Teacher, International Speaker, Curriculum Developer
Follow me: https://www.facebook.com/kindergarten.smorgasboard.7/





"About ten years ago I began developing a 4-6 week program for introducing letters and letter sounds. Having done tons of research, I learned the two biggest predictors of early reading success are phonemic awareness and letter recognition. I also learned about the Law of 10-20 for Memory Sets and how 4-6 weeks is considered 'optimal time' for remembering items in a set. So, I wanted to develop a program that considered all these best practices and also included direct instruction, multiple exposures, motor movement, and review.. all of the most effective methods for success.
When my ABC Boot Camp™ was born, I never thought I'd have to teach it to 20 kids who were each sitting in their homes. Y'all know how challenging it is to keep a 5 year old's attention in person.. Just imagine over a computer across town! Now, my ABC Boot Camp™ is engaging, fun, interactive.. all the things a little learner would want. But, presenting it through a computer screen made me wonder if it'd work.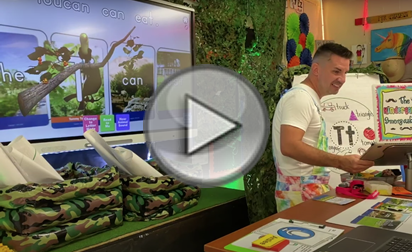 Well, I found out it does! And even more so with Letters alive! Letters alive now includes a specialized "zoo keeper version" of my ABC Boot Camp™ in its learning kit as part of its supplemental curriculum. It takes letters and 26 zoo animals and springs them to life in 3D augmented reality and has added a new level of engagement to my camp!


This fall, we started the year out virtually as did many classrooms across the country. The first 26 days is… you guessed it… ABC Boot Camp™ with Letters alive! Any doubts I had about engagement went out the window when my kids saw all the animals and letters jumping off the screen! They can't get enough! They giggle and squeal just as if they were in my class.


I'm anxious to see how my kids do compared to previous years. I've been collecting data for four years since I started using Letters alive in my Boot Camp. The numbers are almost hard to believe. In only 26 days, my kids already have a solid foundation for reading. This opens up so many other options for learning additional skills as we progress through the school year.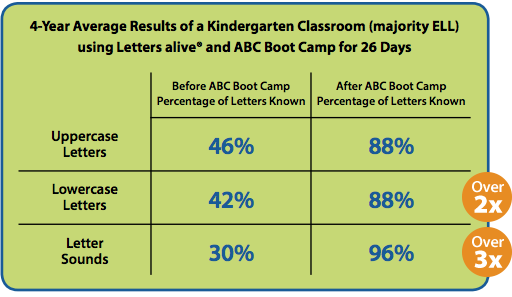 My kids always have the highest and best scores in our school, even though over 90% are English Language Learners! I owe a lot of that success to Letters alive. Based on my kids' excitement and motivation so far this year, I think they'll do just as well even virtually from home!"


---
If you're interested in getting Letters alive® for your classroom and need help with funding, we are pleased to provide four great options here.
~ Cynthia Kaye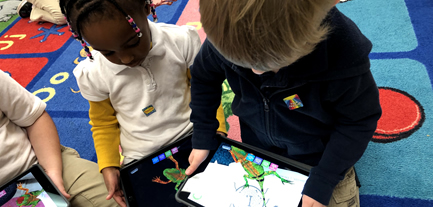 Preparing pre-K students for kindergarten and keeping them engaged is a huge undertaking. As pre-K teachers, our goal is to build the basic foundations for early reading and math concepts, beginning their social-emotional learning, and working with them on physical abilities such as motor skills. Adding to this challenge is the fact that pre-K teachers also need to attend to students who've likely never been in an academic setting and don't understand the mechanics and expectations of a classroom. Providing a highly-engaging learning experience every day helps us accomplish everything we need to with our pre-K students.
1) Identify students who are (or aren't) engaged.
When I think about student engagement, the first thing that comes to mind is a child who actively responds, both visibly and audibly, to what's going on in the classroom—and whose body language is consistent with active involvement in the lesson.
On the contrary, I also think about the very quiet students who are definitely engaged with their learning but demonstrate it in a different way. Some people just have a naturally quiet disposition, of course, but the classroom environment is also pretty scary for our youngest students. It can be very overwhelming and intimidating. They go from being the center of the world in their families to this big classroom with 20+ other kids and two adults whom they don't know. They're going to new places and experiencing activities they don't know how to play, and they're unsure of how they're supposed to be communicating in this new environment. All of this lends itself to various ways to express their engagement.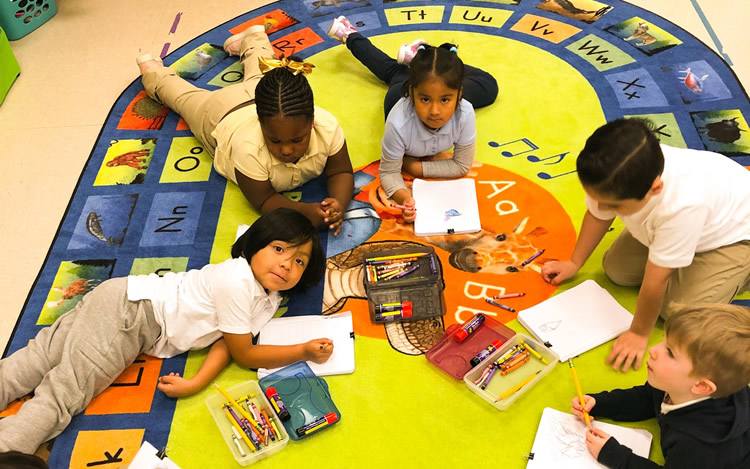 The idea of going from a self-centered environment to feeling like a speck in a big world where I don't know my place seems intimidating to me as an adult, so I can understand why they're quiet. I have one little girl in my class now who didn't really start having conversations with me or most of her classmates until Christmas. Building their confidence is just another element we use to help students develop in order to make sure they're ready for kindergarten. Fortunately, students tend to develop confidence as they learn both academic and social skills before moving into kindergarten. These are skills such as identifying letters and their sounds, the understanding that letters make words and words make sentences, the ability to count individual objects up to 20, and so on.
Engagement (or lack thereof) may be difficult to spot with such young children as they become accustomed to school, but it's still at the center of a successful pre-K classroom. By providing a variety of fun and exciting learning opportunities, we can be sure we're reaching even the shyest students.
2) Create an engaging classroom layout.
Activity centers are a great way to provide that variety of experiences. One way I try to make these activities as engaging as possible is by thinking through the layout of my classroom. I set up one side of the room to be louder and more playful, while the other side is quieter and better suited to concentration. On one side of the room we'll have blocks and a kitchen play area next to math manipulatives. If you keep walking in the same direction, you'll find art and science areas, then a station for iPad use and writing, and then a library space.
We also spend lots of time practicing transitions and other classroom routines. It takes some time upfront, but it pays off so well once everyone gets into the swing of the school year and the students know exactly how to move around the classroom. It saves me a lot of time picking up manipulatives and other classroom objects, too, because the students know where they go and are well-practiced at putting them away
3) Look for fun classroom tools.
Like any teacher, I'm always on the lookout for fun new tools to add to my classroom. One of my favorites this year is Letters alive. It's an early literacy program that teaches the foundations of reading by using 26 zoo animals that spring to life in 3D! Students use letter, word family, and sight word cards to build words and sentences while interacting with the animals.
These 3D animals are so exciting for the students, of course, but one of the things I like about the product is that it doesn't just live in a piece of software.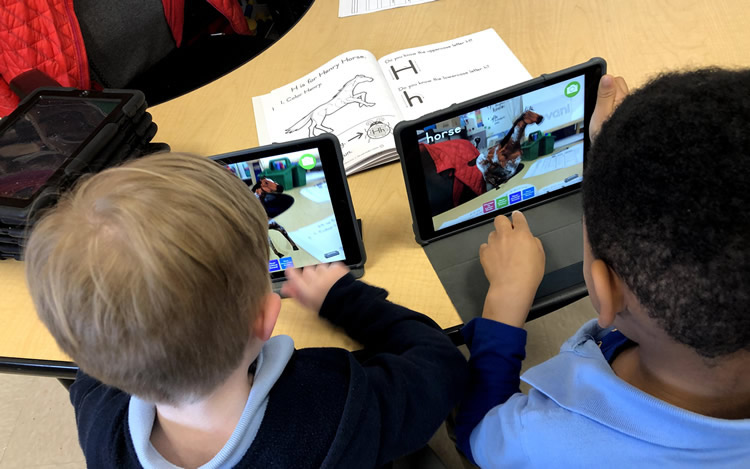 We use the cards as traditional flashcards, and there are also student journals that can be taken home to work on the same literacy concepts with their parents on mobile devices. The free mobile app turns the journal into a magical 3D animal adventure! A big part of engaging pre-K students and ensuring their growth is parents who are committed and engaged in their children's education.
4) Take plenty of breaks.
Children in pre-K are just too young to sit still for long stretches of time and remain mentally engaged. They need breaks, and they definitely need to move. Kids love songs, so I firmly believe that anything with a tune and educational value belongs in a classroom. I can't sing, though, so I'll often play songs via YouTube videos and playlists that incorporate our learning objectives. It gives students a little mental break, but it also reinforces the concepts we're working on as a class. I like to use GoNoodle, a service that combines physical activity in the classroom with educational activities, too. It gets the kids moving while they learn. It's a great way to get students alert and attentive without sacrificing instructional time. Alive Studios also has an awesome alphabet song for introducing the 26 animals in their zoo. The kids love it!