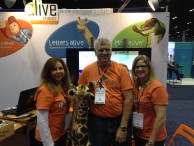 Our next stop on the trade show circuit was the FETC Convention in sunny Orlando, Florida. What a treat to have 60+ degree weather in January!
We selected FETC to be where we officially announced the newest addition to our educational software solutions, Math alive! On the heels of the successful, Letters alive – our supplemental reading program for PreK to 3rd Graders, comes our solution for early math learners. Like Letters alive, Math alive is infused with an amazing technology known as augmented reality. As expected, attendees who passed by our booth were stopped in their tracks; firstly, by the jungle noises accompanying our 26 animal characters, and secondly, by seeing our characters come alive and jump off the screen!
One of our booth visitors was Barbara, an LAUSD Common Core Math Specialist. She was glued to our booth and full of questions. Seeing so much potential in Math alive for her teachers, she gathered all the information possible to bring back to California.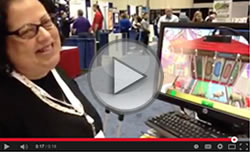 Our faithful crew ran demos non-stop, which caused the crowd to consistently be 3-4 people deep. (We apologize if you had questions and we were not able to assist to you.) We had all kinds of magic going on and brought out all the stops; From our colorful Converse to Gerdy Giraffe roaming around the booth, we made every attempt to bring well-deserved attention to Math alive.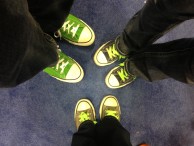 We are on a mission to get children proficient in reading and math by the third grade, and FETC was another great stop on the crusade.
We cannot talk about the FETC Show without mentioning the two lucky winners of our Learning alive Suite! Our educational software bundle for reading and math is valued at $1,295. Jane, of Buncombe County Schools, and Debra, of Port Orange Elementary, had their names drawn from the entries and celebrated the win. Congratulations to both and we look forward to hearing how much your kids love learning with our beloved characters.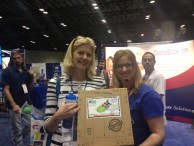 Our next stop is the Title1 Show in Salt Lake City. The crusade marches on!! Yay!!