Case Studies and Video Testimonials
Here are a few testimonials from teachers and administrators who are winning the reading and math proficiency battle in their classrooms. We'd love to hear how you're using Letters and Math alive in your classroom!
Case Study from Greg Smedley-Warren (Teacher, Blogger and Zoo Keeper)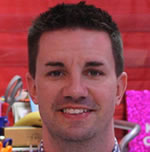 Greg Smedley-Warren, Kindergarten Teacher at JE Moss Elementary, a Title I school in Nashville, TN
"We are so lucky to be partnering with Alive Studios to bring augmented reality into our classroom! The kids love seeing a new animal each day! We discuss and debate what animal it might be! Watch their reactions when the animal comes to life! This brings a whole new engagement level to our ABC BOOTCAMP! I can't wait to show you more of how we use this amazing tool this year!" ~ Greg, Teacher/Blogger
---
ELLs in Edinburg, Texas School District Excelling with Augmented Reality
Over 100 PreK and Kindergarten classrooms are currently using Letters alive and Math alive with ELL students.
---
Letters alive is making a huge difference!
---
Math alive Testimonials
Math alive is NEW for 2015. Email your video testimonial here and we may post your classroom!
---
Case Studies for Letters alive
Listed below are three Case Studies from schools who have fully implemented Letters alive into their classrooms. Our supplemental reading program with its full-year curriculum is so easy to integrate into daily lessons and can benefit children at all levels of early learning.
Lorena Falasco Elementary School
How Augmented Reality Changed the Classroom
Click Here to Read Full PDF Case Study
"We want our students to be engaged and excited about learning, and we feel the technology helps us do that."
~ Jane Brittel, Principal
---
Herman Lawson Early Childhood Center
Preschool Program for Children with Disabilities (PPCD)
Click Here to Read Full PDF Case Study
"To see their faces light up with recognition…kids who didn't care at all about the first letter of their name, who can now spell it because this is so interesting. I mean, WOW."
~ Holly Hammond, Library Media Specialist
---
Audubon Park Elementary
A local school making a difference
Click Here to Read Full PDF Case Study
"Love the flashcards because the letters actually come alive! Children are 100% engaged, watching every movement on the board. They are also so excited to learn about the letters and their sounds!"
~ Audra Cervi, K-3 Reading Resource Teacher