The wait is finally over! One of the common questions we receive after teachers fall in love with our software is "Are Letters alive and Math alive on DonorsChoose.org?" Now, we can answer with an enthusiastic, "Yes!"
Thanks to our friends at Kaplan Early Learning Company, our reading and math learning kits are now posted amongst the other great products offered through this popular funding organization. Letters alive, Math alive, and Learning alive are now available in Mac or Windows versions on the DonorsChoose.org website.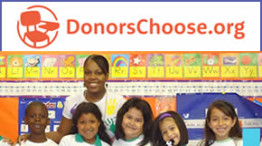 DonorsChoose.org makes it easy for anyone to help a classroom in need. Public school teachers from every corner of America create classroom project requests, and donors can give any amount to the project that inspires them. Teachers simply post their need and the product they wish to have, and donors can choose to make donations to fund the project. According to their website, over 70% of projects get funded. Periodically, Bill and Melinda Gates offer a matching program where they match any project donation.

In an effort to help teachers post their stories and projects, we have created a funding section on our site to make it as easy as possible to post your project and seek funding for our products.