Augmented Reality for Education
Many of us already have some concept of virtual reality – of putting on a headset that drops us into the middle of a simulated world. Augmented reality is different. It's a way of enhancing our view of the real world by adding virtual elements. The easiest example on the market is Google Glass. Users still see what's in front of them, but they also see a digital interface that adds useful information which updates in real time.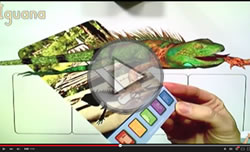 Augmented reality adds graphics, sounds, and interactive elements to a tangible object to make it far more interesting. It changes the way its users see the world. It might sound like something from the future, but that future is already here!
For educational purposes in the classroom, augmented reality has tremendous potential. Textbooks, flashcards, and other educational materials can carry embedded markers that come to life when scanned by an AR configured camera & software. This provides supplemental information to students in a fascinating, interactive fashion that makes their learning experience dynamic and engaging. Augmented reality's power to enhance the classroom is limited only by our imagination and by rapidly improving technology, so the possibilities are endless and exciting. Let us know if you'd like to learn more about using Augmented Reality in Education.